Meet Chris Porsz via Zoom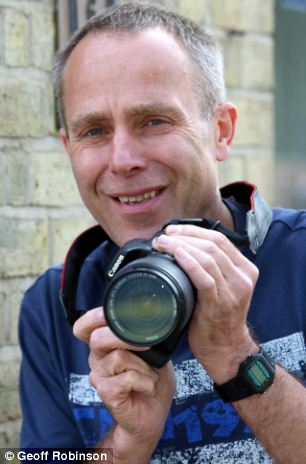 On the evening of Wednesday, the 16 September members of the Local History Society were treated to an unusual Lockdown meeting. Since March our meetings have had to be postponed as was the September meeting. Our Chairman, Trevor and Secretary Julie worked hard researching and writing an article each month on a Peterborough related history article in place of the meetings. Then, out of the blue came an invitation from the Royal Photographic Society to a Zoom meeting with Chris Porsz, Peterborough's very own Paramedic Paparazzo.  
Chris had been scheduled to give us a talk on our usual meeting night this September, but this pandemic has sadly scuppered all meetings since March. 
Multi-person video meetings have come into their own during this crisis. Enabling businesses and companies to react with their 'working from home' employees. As well as grandparents keeping in touch with their children and grandchildren. 
On Wednesday evening in our own comfortable lounge one click on our laptops, tablets, computers or even smartphones and we were transported to the Zoom waiting room. After a short delay, while Chris sorted a minor problem with his microphone, we were linked to him in his own home. 
Chris proceeded to entertain us with his photographs, extracted from his vast archives. Beginning, with a short biography of his own family history, to his now famous, street scenes. With each image, Chris explained how he managed to capture the shot, often a pure fluke. Like many photographers, Chris demonstrated how a successful photographic image is often pure luck at being in the right place at the right time. Chris likes to photograph ordinary people going about their lives and has worn out much shoe leather walking the streets of Peterborough camera in hand looking for that perfect moment. Generally, he can be seen walking the streets of Millfield and New England rather than the city centre. My own son and his teenage daughter got 'Papped' (street talk for being caught on a photographer's image) crossing Priestgate in the rain after a visit to one of his exhibitions in the museum. 
Recently he has been concentrating on a series of photos for a new book attempting to capture images of the same people in a similar pose or situation as he caught them in the 1980s. With the popularity of social media, finding people from past images has become easier as people see themselves in the photo and respond or someone knows how to find them. In a few instances, his job as a Paramedic has actually found the people from a decades-old photo shot. 
Our sincere thanks go to the South West Region of the Royal Photographic Society and to Chris for including members of the History Society in the invitations to the talk. It was a most interesting and revealing insight into the life of a Street Photographer.
Footnote – Chris's photographs go to prove that the fashion excesses of youth are generally a passing phrase and to be different from the perceived normal is not anything to be afraid of.