Discover more about what our events entail, check back at some previous events
37, 635 people attended the two days of the Heritage Festival, in July 2016. The Festival has gone from strength to strength. The initial concept grew out of an idea from the Peterborough Local History Forum (which our Society is a member of, and is represented at meetings). It seemed an impossible task, to stage an event to surpass that of 2015, where jousting took place in the Cathedral Precincts; the first time that such an event has been staged in the middle of a town centre in England since 1467. All credit to Vivacity, in collaboration with the Cathedral (in particular, with Stuart Orme, Director of Operations) for pulling it off once again, with an increase of 9% on visitor numbers.
It provides a wonderful chance to showcase our Society. Our stall in the Cathedral Precincts puts us right at the heart of the action. We are on the main thoroughfare for Vikings, Saxons, Bronze Age warriors, World War II airmen, and even royalty, to pass by. More importantly, we have a good vantage point to attract members of the public, with our displays and the publications we offer for sale (often written and published by members of the Society).
Our unique position allows room for members of the public to spend time looking at the displays, browse the book stall and chat with our members who are manning the stand. The ultimate outcome of the weekend, for the Society, is the gaining of new members, which we do, year on year. Alongside this is the knowledge that we have enabled visitors to go away with just a small insight into the Peterborough long since gone.
The sun is shining – it's a glorious evening – we're with like-minded friends and (often) visiting somewhere that we cannot access as a member of the public. You've guessed – we're on a Peterborough Local History Society summer visit! For three months every summer, this is what a group of us do. It would be lovely, in the future, if as many members as possible are able to share this experience. Do please consider if you can go on any of the planned visits in 2017. We are often fortunate to be able to gain access to places not usually open to the public. This year, one of our visits was to Walcot Hall, which usually opens its grounds just once every four years, for a charity fundraising occasion. We were doubly honoured, to be guided around the estate by the owner, Mr Darby Dennis. His commentary was fascinating and his obvious love for both the Hall and the grounds was evident. Whilst the Hall has a very similar appearance to that of Thorpe Hall in Peterborough, the actual architect is unknown. Mr Dennis implored anyone who could provide any insight into a possible architect, to get in touch.
One of our other visits this year was to Buckden Towers, linking the evening with an earlier talk that we enjoyed in our indoor meeting, back in September 2015 (this link-up with an indoor and an outdoor meeting is something we like to arrange, if possible). The peace and tranquillity of this religious site was evident. Our guides were passionate about the place and their enthusiasm was infectious. Tea and "buns" on the terrace provided an added bonus, where we soaked up the early evening sun, before starting the tour.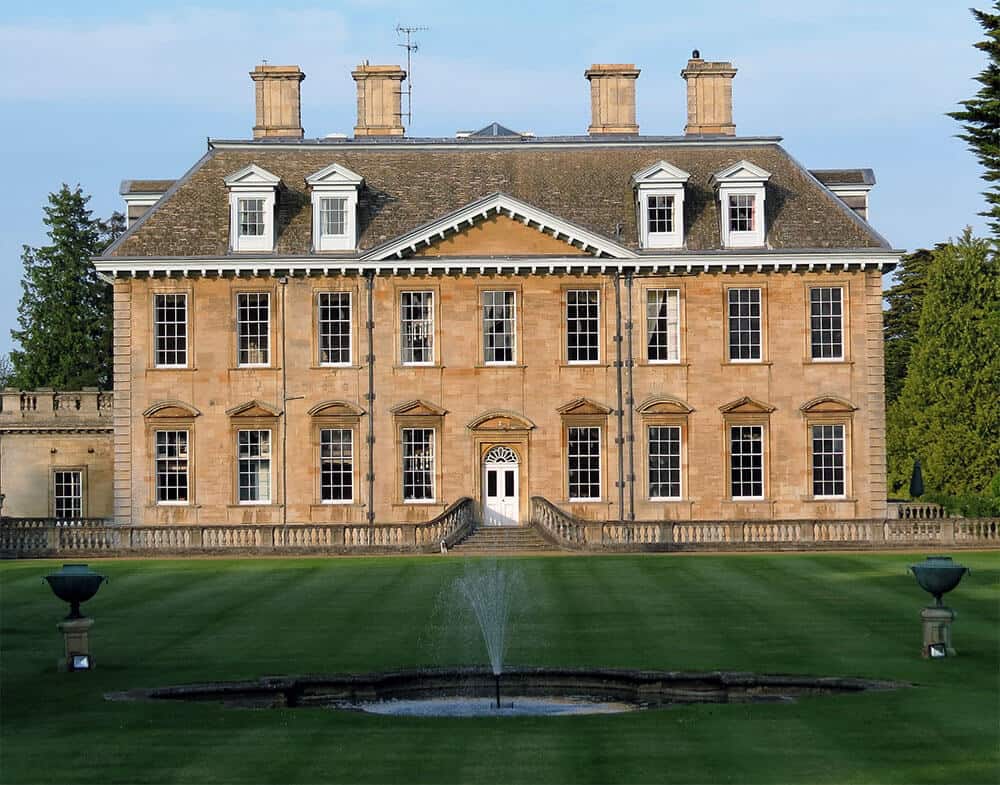 Many enjoyable visits have occurred over previous years. To reminisce, just a few recent visits; Tolethorpe (2010); The Orchard House (2012); Browne's Hospital, Stamford (2013); Holmewood Hall and Island Hall Godmanchester (2014). More summer visits: Moulton Mill (2014); a walk around Exton and The Burtey Fen Collection (2015).