January Meeting 2018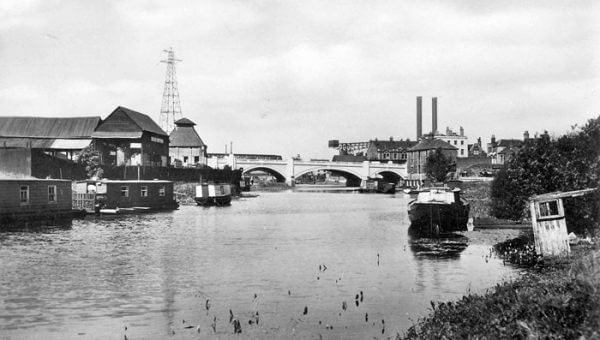 On a dark, damp January evening, the first meeting in the New Year of the Local History Society was well attended with several new members welcomed.
Our Speaker was Peter Waszak MSc, a former School Librarian, a Local Author and Historian with several books to his credit and a Railway enthusiast. His talk this evening was entitled "Commercial Traffic on the River Nene in the Nineteenth Century"
The Nene (or 'Nen' as it's pronounced in Northampton) is the 10th longest river in the UK.  It rises in Northamptonshire and merges with several tributaries and The Grand Union Canal before its following its twisting course through Northampton, Wellingborough, Thrapston, and Oundle and through the Nene Valley flood plains to Peterborough. Once through the 'Dog and Doublet Lock it becomes tidel and continues to Wisbech, through the Fens to it's outlet in the East coast Wash. It's a gentle flowing river with a total fall of just 200 feet.
The Nene today is a peaceful rural river used solely for Leisure, but back in the 19th Century and especially before the coming of the railway network, it was a hive of activity with river Lighters and Barges moving at their own pace along the river and connecting with the many waterways and drains that ran deep into Fen countryside. It was the main routes for the transportation of goods of all description. The roads through the Fens were rutted mud tracks and subject to flooding and subsiding so were unsuitable for transporting goods. The railway didn't penetrate the Fens until the late 19th century. The history of this river traffic is sketchy due to the poor record keeping of the Lighter men and the Lock keepers and Toll keepers. Much deception and corruption existed during that time.
As the Railways networks extended into the Fen towns the river traffic decreased and the River, the Docks and the Wharfs were neglected and fell into disrepair. Abandoned Lighters can sometimes be seen decaying and partially buried in the silted banks. After 1890 the river wasn't dredged and slowly became neglected and silted up until serious flooding made maintainance essential.
Peter's talk gave us a fascinating insight to our Rivers past commercial history and I'm sure was enjoyed by all.