April 24th In the Cathedral's Knights Chamber.
By Julie Nicholson
The Society's annual fund-raising event on 24th April was completely sold out, with people eager to share what the afternoon had in store.  
Proceedings commenced with one of the Society's Committee members, Rita McKenzie, presenting "Peculiar to Peterborough" – a look at what makes our city different! Rita shared images from her own collection of photos and memorabilia and gave an insight into the intriguing title – did you know that the woman with the smallest waist in the history of mankind lived in Peterborough, or why the bells of St John's Church are always rung on 15th March? What about this oversized armchair – you'd hardly find one like it in Furnitureland today! Fascinating stuff!
After Rita's presentation, refreshments were served by volunteers from the Society. Visitors took the opportunity to catch up with friends over a cup of tea and there were crowds around the photo displays, as everyone was eager to look at the old pictures on show.
After the break the raffle was drawn – can you believe – 17 raffle prizes, but I didn't win anything ☹
The Society Chairman, Trevor Pearce, then presented "Lost Buildings of Peterborough". A Peterborian, Trevor drew from his own experience to share details of buildings lost during the last 60+ years – perhaps I shouldn't say that he actually remembered some of the images he shared of those that went before that era!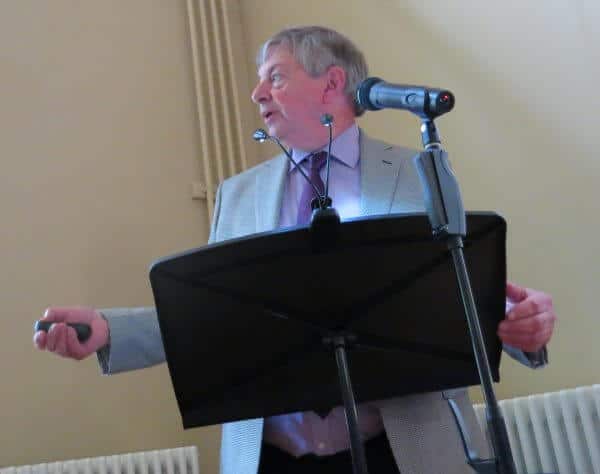 Did you know that the Peterborough's Showground has been sited in 4 different places, over the years, this being the entrance to one of them?
What a fantastic afternoon! I can only suggest that you think about putting the date in your diary for next year now, so you're not one of the unfortunate people who didn't manage to get a ticket – Wednesday 29th April 2020 – see you there!