Peterborough's Blue Plaques by Toby Wood from the Civic Society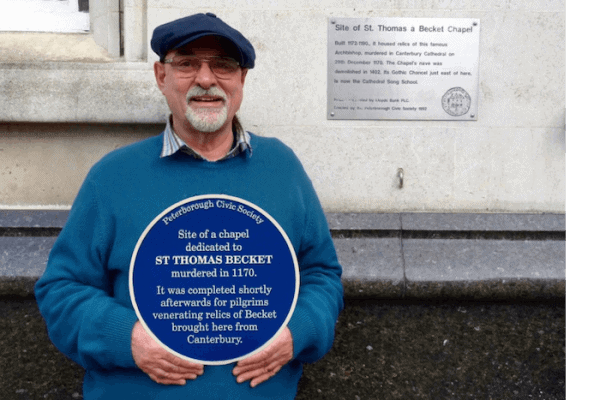 It's the second Thursday in the month once more and despite the dark cold evening the turnout for our meeting is good. A welcome was extended to several visitors and potential new members who had also joined the audience. All was set for an interesting talk from our evenings speaker, Mr Toby Wood, Vice Chairman of the Peterborough Civic Society. His subject was Peterborough's Blue Plaques.
The Civic Society was set up in 1952 to campaign for the protection and preservation of Historic buildings and monuments. They aim to work with Public authorities to care for the City's future, by promoting good design, campaigning to save our local heritage buildings and other features and to promote public interest.
From 1985 to 2012 The Civic Society had placed 28 metal aluminium Plaques around the City. Over the years a few have disappeared when buildings were demolished and many have suffer wear and tear. In 2015 a decision was made to replace the old plaques with a new design following the heritage design of the London Blue Plaques. These Plaques are more visual to the public. They were erected to enhance the City centre and form a trail that can be further enhanced with a leaflet giving more information on each plaque.
The program took 3 years to implement. From deciding which plaques to replace, the information on them, the colours, the fonts, getting permission to erect them in the chosen location. Costing over £300 each, they were cast and hand painted by a Derbyshire Architectural signage casting company. They are cast from an amalgamation of metal and plastic making them useless to metal thieves.
Our thanks go to Toby for an entertaining and illuminating talk.
More information on the Plaques can be found on the Civic Society's Website – https://www.peterboroughcivicsociety.org.uk/plaque_menublue.php