Parson Latham Hospital, Oundle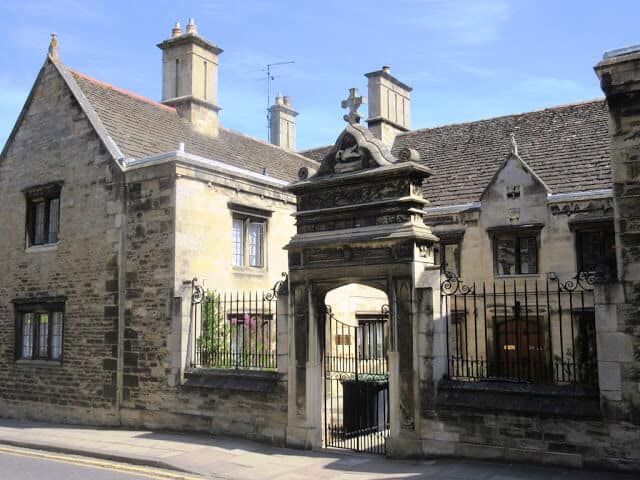 Summer might be over, but the October Meeting of the Local History Society was well attended on an unseasonably warm evening. Our Speaker was Mr Paul Goldsmith,  Chairman of the Parson Latham  Hospital Charitable Trust in Oundle. His talk was on the history of the 17th century Grade 1 listed Hospital This was Mr Goldsmith's second visit to the society this year. His previous talk was on the historic village of Wadenhoe.
Parson Latham was born in 1548 in Brigstock, Northamptonshire. His father was Keeper of the Great Park for Lord Edward Montague of Broughton House. He was educated at Higham Ferrers and Queens College Cambridge. He became a Rector at the age of 21 at  St Andrews church Barnwell. His Stipend was somewhat generous for the time and he used his money wisely buying land and property. He set up and endowed Almshouses (Hospitals) and schools for the poor and each hospital or school he set up had land and dwellings to generate an income to sustain each establishment. 
Parson Latham's Hospital is not a hospital as we understand them but an Almshouse, created to look after the poor and destitute of a Parish. In this case poor ladies of Oundle. Apparently taking in only Ladies does not contravene the Sex Discrimination Act as Alms Houses are exempt from the Act. The Alms House and attached School building are to be found along North Street in Oundle. The attached School building was to give 30 of the poorest boys of the parish an education. It was known as The Blue Coat School as the boys all wore a uniform of blue coats. Trust still operates an Educational Foundation that gives Grants to eligible young people of the Parish to help them get on in their chosen career.  A fuller insight into the Parson Latham Hospital can be found on their website,  https://www.parsonlathamscharity.org.uk/ 
The Pupils of the school were eventually absorbed into the National educational system. The School building attached to the original Almshouses or Hospital have now been adapted to additional single dwelling one bedroom flats and the original single room dwellings in the Hospital buildings are all now self-contained one bedroom flats for single or divorced unattached ladies who live independently but are helped by the Trust.